Welcome to the 4th Phase of WGIN (2018-2023)
Defra Wheat Genetic Improvement Network:
WGIN 4 - Improving the resilience, efficiency and stability of the wheat crop through genetics and targeted trait analysis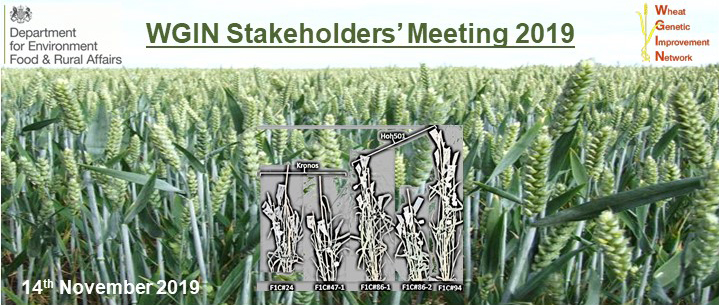 The 17th WGIN Stakeholders' Meeting will take place on Thursday November 14th 2019 @ Rothamsted.
Please scroll down to 'forthcoming events' for viewing the full programme and how to register.
WGIN 4 has been funded by Defra until July 2023.
The strategy for WGIN4 including continuing as well as new projects is shown below: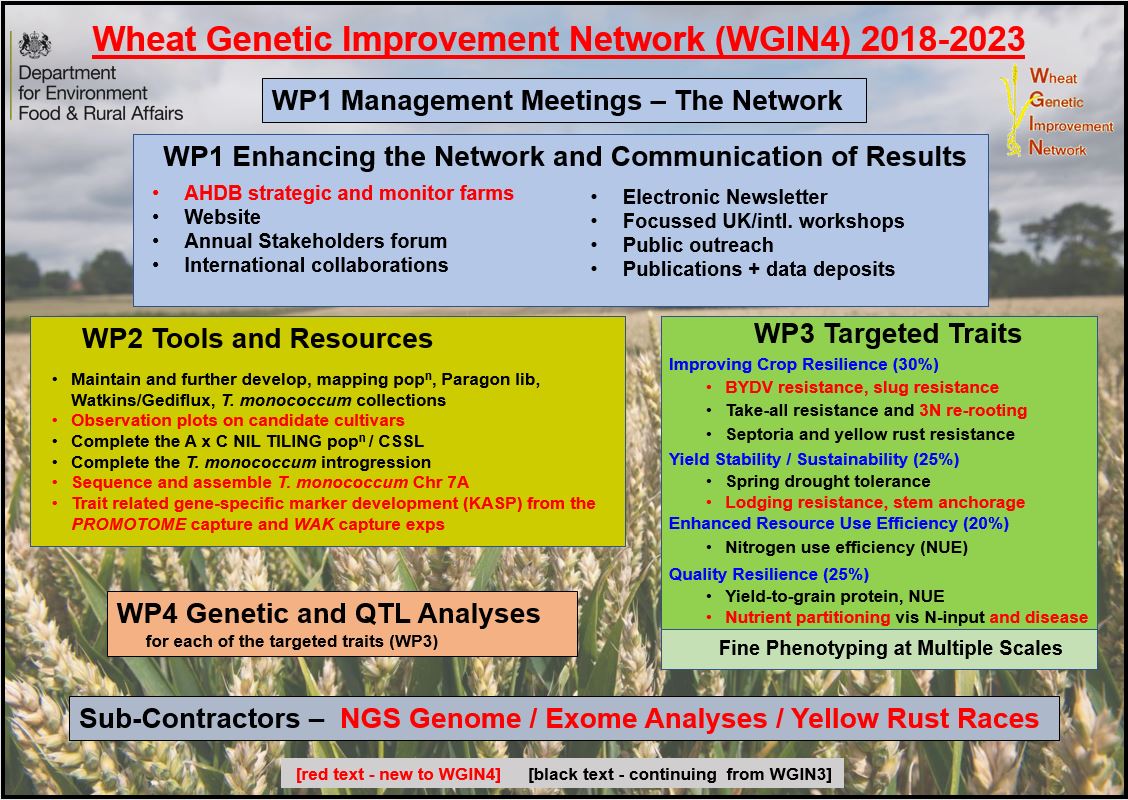 A summary of WGIN3 achievements and the WGIN4 core project can be found here.
WGIN videos:
For the first time, as part of WGIN4 we are now in the process of creating videos about various aspects of WGIN and making these available to website visitors.
As a start, you can view a 6min video about wheat crossing and the rationale for trying to introgress T.monococcum into bread wheat here.
IMPORTANT:
1) The April 2019 edition of the WGIN Stakeholders' Newsletter can be viewed here.
2) The 5th WGIN 4 Management Meeting was held at JIC on October 8th 2019. The presentations can be viewed here
3) The 16th WGIN Stakeholders' Meeting was held on Friday November 16th 2018 at Rothamsted.Presentations can be found under the 'Stakeholders' drop-down menu in 'Meetings'.
4) The WGIN Legacy document, covering the achievements and outcomes of the first TEN years (WGIN 1 2003-2008, WGIN 2 2009-2014) is now available to peruse by clicking this link: WGIN 1&2 Legacy
5) An article by Heather Briggs about WGIN has been published in the June 2018 Edition of Arable Farming. The article can be found here.
forthcoming events :
1) next WGIN Stakeholders' Meeting
This year's WGIN Stakeholders' Meeting will take place on Thursday November 14th 2019 in the Fowden Hall.
This event is open for registration via Eventbrite by clicking here.
The full programme can be viewed here.
2) EI Innovate: genomics data to advance bioscience
"Developing solutions to global issues with EI's advanced capabilities and expertise in genomics and bioinformatics - improving global food security, environmental management, conservation, health and wellbeing."
This event will take place on November 13th 2019 and further details and registration could be found here https://www.earlham.ac.uk/innovate2019. The full programme can be found here.
***Paragon Library***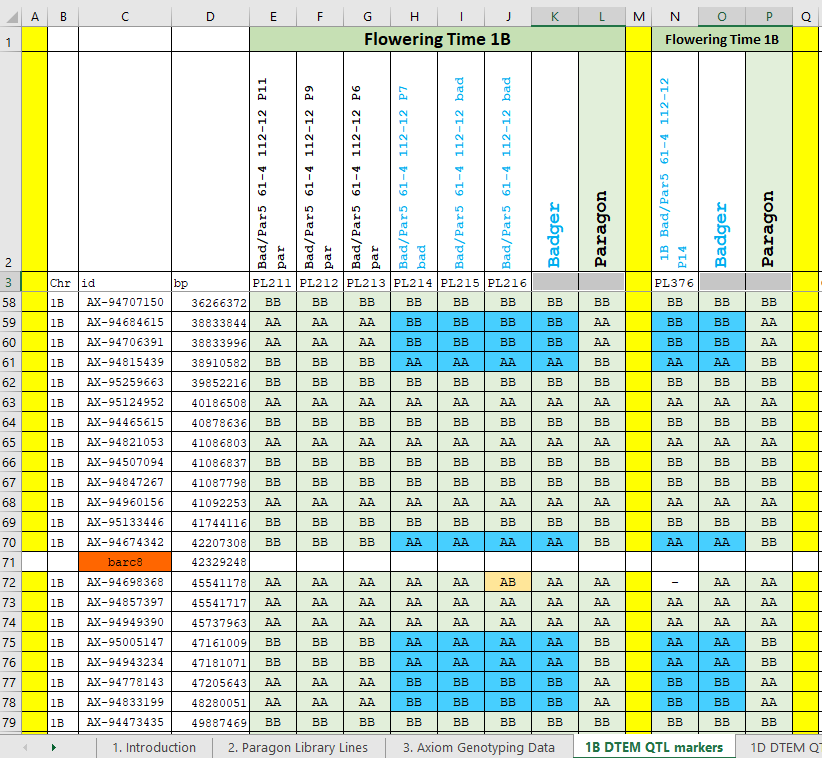 WGIN has been part of an informal consortium developing NILs in the genetic background of the UK spring wheat Paragon. The collection, known as the Paragon Library, was developed at JIC and currently consists of around 350 lines. The project involves crossing different combinations of genes, QTLs and mutations into the common background of Paragon and then studying the phenotypic effects. NILs are currently available for multiple alleles of: Rht-D1, Rht-B1, Rht8, Lr19, 1BL.1RS, Yield (7B), Grain Size (5A, 7A) and more than 10 Heading Date QTL. Further lines will be added in the future.
The Paragon Library lines have been genotyped on the Axiom 35K Breeders' Array and data for about 300 lines is now available to download here and the figure to the right indicates the format of the data. Seed collected from the genotyped plants are now available for distribution on request and we hope they will eventually become available through the Germplasm Resources Unit (GRU) at JIC.